What does Importacular do?
Importacular allows you to connect to Kimbia and bring data directly into RE. It offers;
Completely customisable mapping

Completely customisable matching criteria
Import into Bio 1, Bio 2 and Gift for free, with affordable subscriptions for other areas
Importacular integrates with many other web services, for more details and to access our user guide visit our Importacular home page.
What data can I import?
Our Kimbia import allows you to bring in any data from forms or financial transactions you choose from your Kimbia account. Create a report in the data management section of your Kimbia admin area and include the fields you want import.
To access your Kimbia data, go to data management in the Kimbia admin area. Find your or create your report of data to be imported into Raiser's Edge. Ensure that you have all the fields you need to look up records and bring over transactions.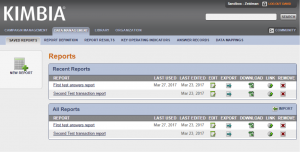 Click on the link icon to show the Report Anywhere URLs.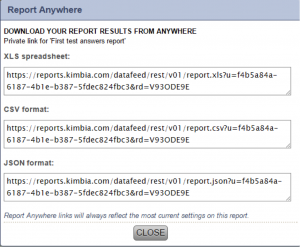 Copy and paste the CSV format into Kimbia data source window as shown below: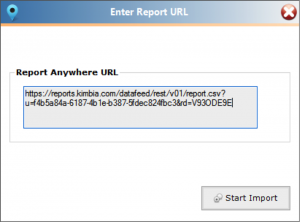 Get started now:
Self hosted? Download Importacular now.
Hosted by Blackbaud? Importacular is available as a default plug-in for all users, if you can't see it in your plug-ins area immediately please get in touch.
   Importacular for Kimbia