To watch a demo of the option to Export data from the Raiser'sEdge into EveryAction, click here.
When you first open the template for the EveryAction Export, you will see the available mapping areas (Contact, Mailing Address, Work Address, Activist Code Apply, External IDs, Apply Contributions, Contact Custom Fields, Contribution Custom Fields, and Disbursement Custom Fields ), but the only one available to select when you first open the template will be Contact. This is because you have to create your Supporter mapping before you can do anything else. Once that has been mapped, it will be greyed out and the other buttons will be activated.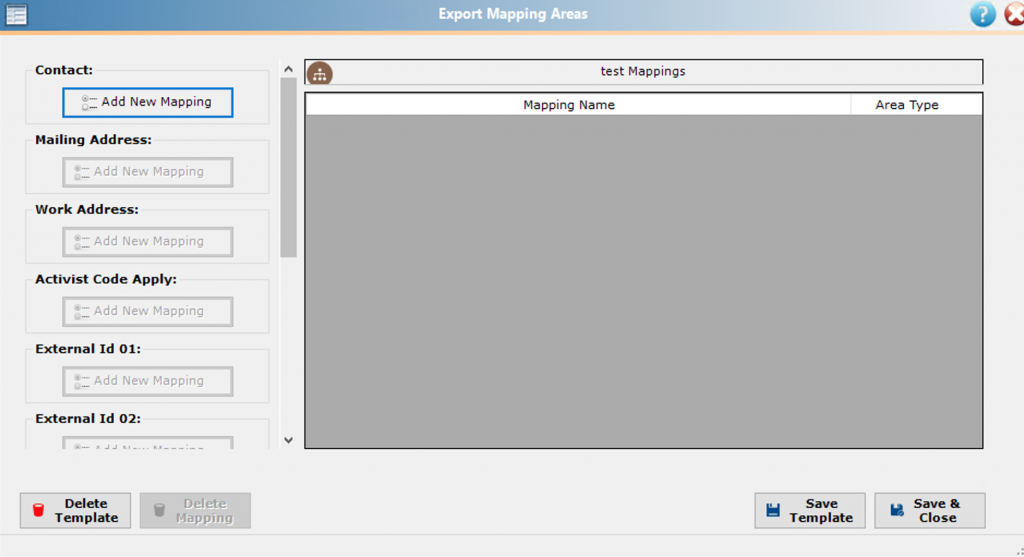 Below, you can see an example of a Contact mapping: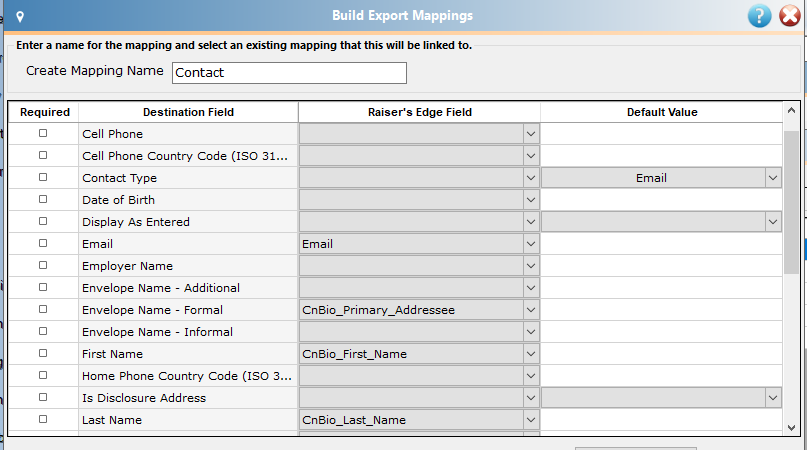 Fields that are required for EveryAction will be indicated in the far left column. The names of the EveryAction fields are seen in the second column. You can choose to populate the EveryAction fields with either Raiser's Edge Fields (these are the Output fields selected in your Raiser's Edge Export) or with a Default Value.
Below you can see an example of an Address mapping (both work and mailing have the same fields).

Below you can can see an example of an Activist Code mapping:

To learn more about the Recruited By field, please see this knowledgebase article.
Below you can see an example of an External ID mapping (this would be used to map your Raiser's Edge Constituent ID into EveryAction as shown).

Your custom field mappings will contain the custom fields you have set up on EveryAction and work in much the same way as the mappings above. The example below shows what this can look like.

Should you wish to adjust the naming mechanisms of the Raiser's Edge fields, you can rename them in your Raiser's Edge Export.