Mailchimp Data Update (previously known as Export to Mailchimp) allows you to add and update Mailchimp records in your audiences. There are two different types of Updates for this process:
Standard Update – this allows you to add AND update records in Mailchimp
Group Update – this allows you to add existing contacts in Mailchimp to Groups, based on a cons code, solicit code, custom field or consent record
You can set the export to run as:
Ad hoc, (one off) – manually triggered
Scheduled – Set up a specific day and time for constituents to be added and updated on Mailchimp
Add a New Mailchimp Data Update Process
From the sidebar, select the Mailchimp 'Chimp' icon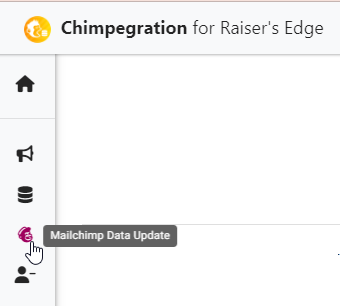 Select either a Regular or Group Update, then select 'New', or 'Copy From' to duplicate an existing process for editing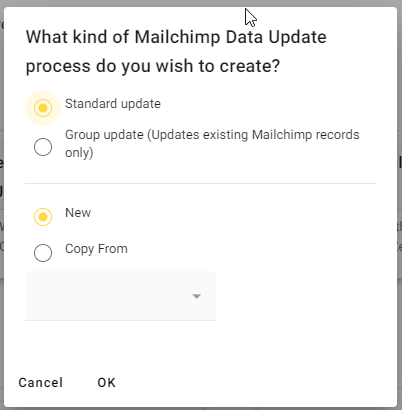 Give your template a name (we recommend a strong naming convention) and choose either a one-off, or a regular scheduled export.

Follow instructions for the appropriate process below:
Notes
You can use the Mailchimp Data Update process to resubscribe a user to an audience, but only if the user was unsubscribed by an admin function. You cannot resubscribe a user who has unsubscribed themselves from your Audience.
If you wish to add a constituent to a group in Mailchimp you must first add them to the Audience.
Edit an Existing Process
Head to the Template Manager, find the relevant template and select 'Edit'
Click on the drop-down menu and select the process you wish to change.
Click 'OK' and make any changes you require.
Click 'Done' on the final tab to save your changes. Please note: if this is an ad hoc process clicking 'done' will also run the process.

You can see any existing templates and their status by going to the 'Template Manager' area.