Please note, this process is currently only available to BBCRM and Altru users. It is coming soon for RE NXT.
From the homepage click on the plus symbol in the bottom right hand corner and select 'Campaign Management'
Then select 'New' or 'Copy From' to duplicate an existing process for editing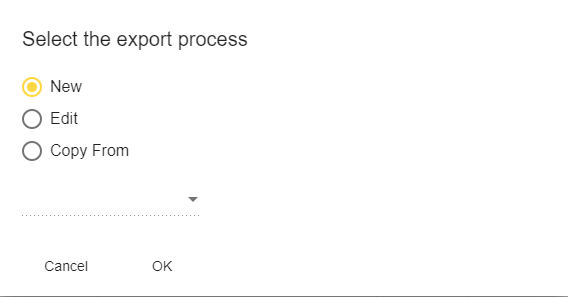 Give your export a name and choose either a one-off or a regular scheduled export.

Select a Mailchimp list to export into and a query to pull data from in your database. The search function allows you to start typing the query name whilst the 'Select a query' option gives you a dropdown of all your saved queries.
Be sure to include any fields you wish to use in the mailing in the output criteria (e.g. first name, donation amount etc), you will always need to include an email address. We also strongly recommend including the Cons ID or Lookup ID for all constituents too.
These fields will map to your Mailchimp list's merge variables. You will need to ensure there are no blank email address fields in your query, the best way to do this is to use the preferred email address field in the output.
Chose how to update the list.
You can choose whether to only add new emails or add new email addresses and update existing records. The first option will not update the values of constituents already in Mailchimp. Please note that existing constituent records are matched by email address only in the export.

Map the output fields from your query to the fields in Mailchimp. As you can see in the screenshot below your Mailchimp merge fields are listed in the lefthand column, your available query output fields are shown in the dropdown for each Mailchimp field.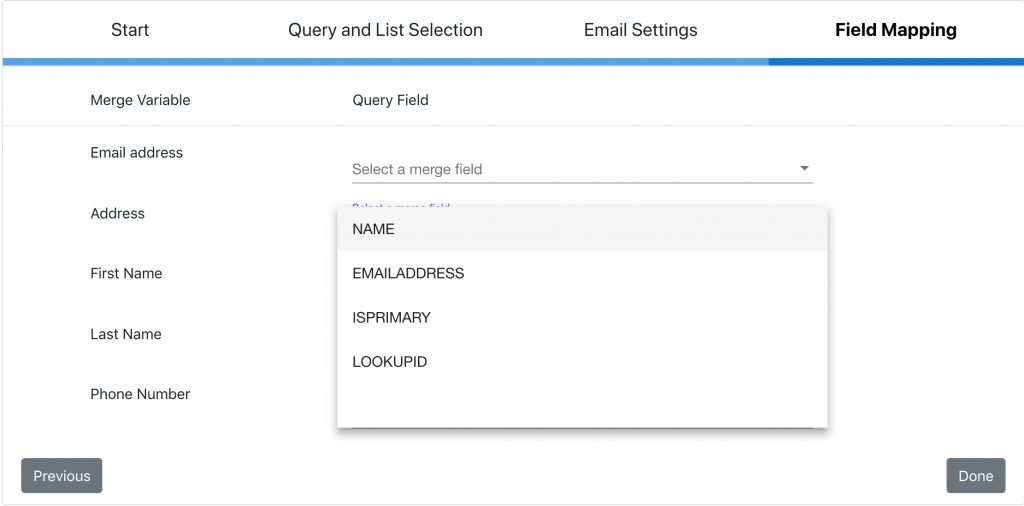 You can set up any number of merge fields in Mailchimp before your import to accommodate your fields selected in your query output. You must include an email address or the export will not run as this is required by Mailchimp.
*It is necessary to map the constituent ID or Lookup ID in order to use the synchronisation module, but we recommend this for all users as it will also offer you much better accuracy of matching when managing campaign results.
Click 'done' and your export will be processed and sent to Mailchimp. Please note there may be a short delay before the tile appears on the dashboard due to Mailchimp processing procedures.