This section is for self-hosted/on premise users only. If you are hosted by Blackbaud you should find Chimpegration in your plug-ins area ready for Set Up.
When you download Chimpegration from Zeidman Development and unzip the compressed file, there are two to four applications to be installed depending on what you have purchased:
All Users:
Server Installer – Please ignore, you never normally need to use this file unless otherwise directed by Zeidman Development

Client Installer – Installed wherever Raiser's Edge is installed and the user sends bulk emails, includes Chimpegration View
Additional Purchases:
Chimpegration Scheduler – installed for users who need to schedule emails
In general the installation is straightforward. In each case (bar the client, see below) run the setup.exe file and follow the wizard.
For the client install you will need to run the chimpegration.msi file and follow the wizard, you have three options for what to install for each user: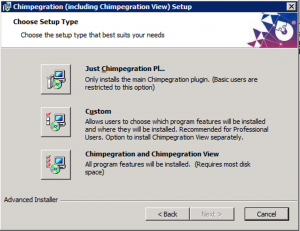 Please ensure that Raiser's Edge and any other programmes are closed before starting your installation.