Please watch this video for a demonstration of how the Actions destination works.
Actions can be used in conjunction with Solicitor/Canvasser Relationships (if you would like to assign a Solicitor to the Action) as well as link a Proposal to an Action for users with the appropriate paid data destinations.
Action fields can be populated with either a Source Field Name or a Default Value.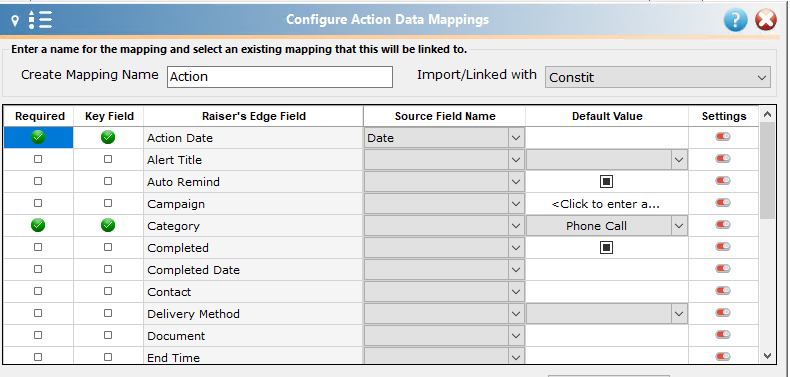 While you will see all of the fields for any possible Action records, it is important to note that several fields are linked to specific Action Categories. Fields will only import when linked to their respective Categories.
Action Category
Linked Fields
Fields NOT Linked
Phone Call
Phone number
Location
Letter
Document
Email
Subject
Alert Title
Issue
Delivery Method
Recipient Name
Message ID
Meeting
Location
Phone Number
Letter
Document
Email
Subject
Alert Title
Issue
Delivery Method
Recipient Name
Message ID
Mailing
Letter (referring to Action Letters in Config)
Document
Location
Phone Number
Email
Subject
Alert Title
Issue
Delivery Method
Recipient Name
Message ID
Email
Email (meaning the address itself)
Subject
Location
Phone Number
Letter
Document
Alert Title
Issue
Delivery Method
Recipient Name
Message ID
Task/Other
Letter (referring to Action Letters in Config)
Document
Location
Phone Number
Email
Subject
Alert Title
Issue
Delivery Method
Recipient Name
Message ID
Advocacy
Alert
Title
Issue
Delivery Method
Recipient Name
Message ID
Auto Remind
Reminder Units
Reminder Value
LetterDocument
Location
Phone Number
EmailSubject