To create a new constituent mapping, select 'add new mapping' and choose between: Individual, Organisation or Combination.  You are able to import a mixture of individual and organization constituents in the same way as you would in a regular Raiser's Edge import. In this case, you need a field that determines the key indicator (a value of "I" or "O") in the data source. If you'd like to see a demonstration of this, you can watch a tutorial of this process here. 
Once you have selected Individual, Organisation or Combination, you will be able to map your fields on a mapping grid like the one below. You can use Source Fields (the data in your data source) or Default Values to populate Raiser's Edge fields, but you cannot use both a Source Field and a Default Value in the same row. The field settings at the end of the row allow you to make changes to the data as it comes into the Raiser's Edge.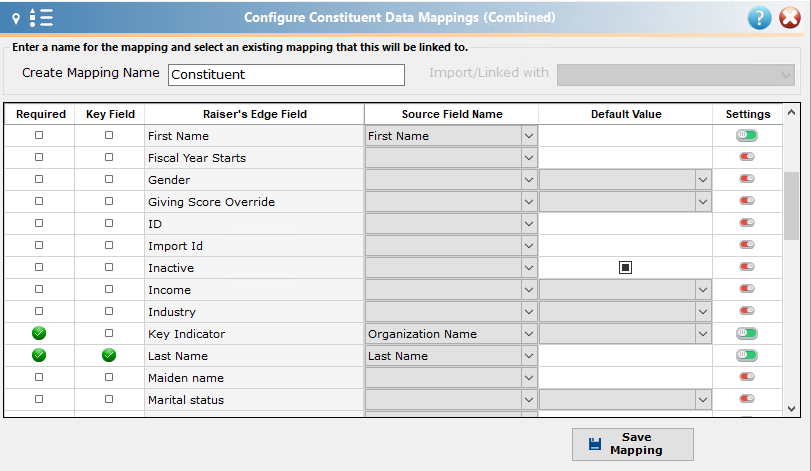 Before you can save any mapping, you will need to assign a Mapping Name in the upper left hand corner. This name will not affect what is imported into the Raiser's Edge, but it does help you identify your mappings on your Control Report.
Note: When importing Organisation records, please note that the field for Organisation Name can only contain 60 characters. Anything longer will be cut off.
Articles