To access Manage Templates, go to 'Help' and select 'About Importacular'.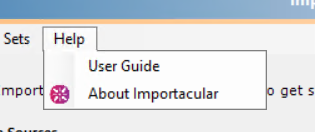 Click on 'Advanced' in the bottom left hand corner of the screen and then select 'Manage Templates'.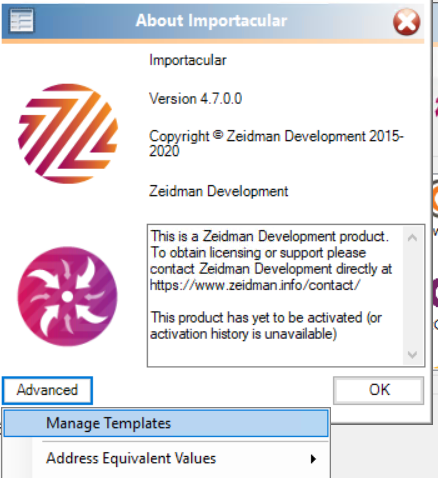 Your import templates are specific to each data source and can be exported, backed up and imported here.
Export and Import
For individual templates – these options allow you to export a copy of your template (either for you to save as a backup or for you to send to our support desk when necessary) or you can import a template.
Backup and Restore
Backup – The Backup function allows you to save a copy of your templates to a file. While templates are backed up to the Cloud (as of version 4.5), this option is backed up to a location that you determine and allows you to save the backup longer than the Cloud option.
Restore – Beginning in version 4.5, each day that Importacular is opened a backup of the templates will be made. One will be retained each day and then two a week for up to (currently) one month. As a best practice, it is still recommended that you backup all your templates on a regular basis in addition to the automatic backup. You can read more about Restoring templates in this Knowledgebase article.
Clone for file
You can duplicate a template created for a specific data source for use with a file format, for example your exceptions on a Control Report from an import.
Delete
If you would like to delete templates that you no longer use, you can highlight them and then click on 'Delete' in order to remove them.
Add to Defaults/Remove from Defaults
You can opt to create defaults so that you can copy specific settings from one template to another. Please note that defaults are limited to like data sources.
Additional information on managing templates may be found in this Knowledgebase article.